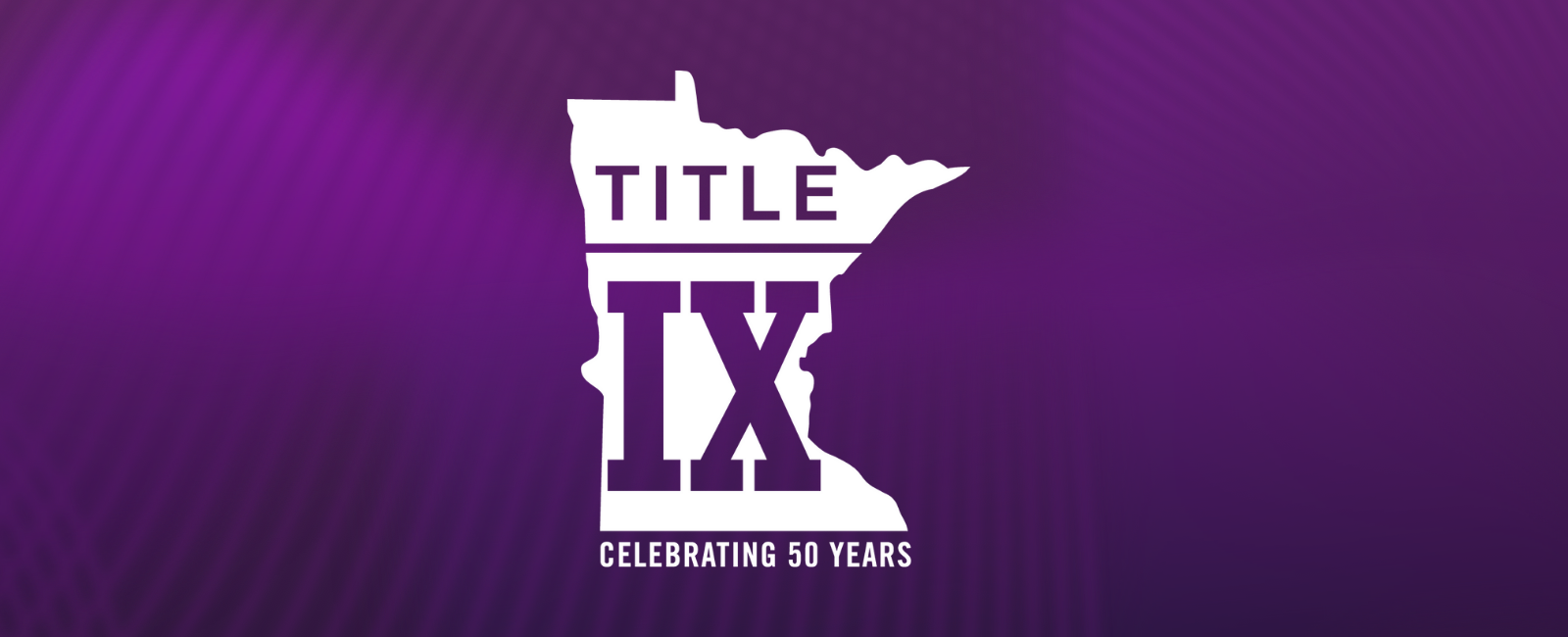 Title IX Celebration Brings Basketball Bash to Mall of America from March 27 to April 3
Sports fans of all ages will enjoy a wide variety of events and activations at Mall of America to celebrate the 50th Anniversary of Title IX
MINNEAPOLIS (March 22, 2022) –The 50th Anniversary of Title IX Celebration will take place at Mall of America March 27 through April 3 and feature a week full of fun and informative interactive experiences, activities, entertainment and more. Minnesota Sports and Events, the regional sports commission responsible for procuring and executing large scale events for the state, started celebrating Title IX last summer to recognize the milestone anniversary of the transformative legislation that removed barriers for women and girls in education and sports.
The 50th Anniversary of Title IX Celebration program schedule features a multitude of experiences for fans of all ages, including a Q&A with Bachelorette Michelle Young; basketball clinics with Minnesota Lynx players Natalie Achonwa and Aerial Powers; dance, fitness and Peloton classes; the Star Tribune Minnesota Sports Hall of Fame Induction Ceremony; and the Delta Dental of Minnesota "FLOSS" competition. Over the course of the week, there will be performances by Kalpulli Huitzillin, Skol Line, Twin Cities Skaters, Rebel Queens, Twin Cities Trapeze, Sampson Brothers, Lady Midnight and much more.
"Mall of America is the perfect venue for visitors from across the region and across the country to celebrate the 50th Anniversary of Title IX. We have been honoring the anniversary by commemorating women trailblazers who have inspired generations of change-makers, and the weeklong festivities at Mall of America will bring together change-makers and fans of all ages to celebrate women, sports and the everlasting impact of Title IX. We are so grateful to our local business community who have stepped up to show enthusiastic support for equity and inclusion in sports, education and business, and in our communities," said Wendy Williams Blackshaw, CEO and President, Minnesota Sports and Events.
Blackshaw continued, "We want to thank our incredible Title IX Partners: 3M, Accenture, Best Buy, CUB, Delta Dental of Minnesota, Ecolab, EY US, Fastenal, Land O'Lakes, Mall of America, Minnesota Timberwolves and Lynx, Minnesota Twins, Minnesota Vikings, Mortenson, Pohlad Companies, Sleep Number, Target Corporation, Thrivent, UnitedHealth Group, Xcel Energy, Carlson Family Foundation, McGrann Shea Carnival, Straughn & Lamb, Media Bridge Advertising and Star Tribune."
"Mall of America is an iconic retail and entertainment destination that draws visitors from across the state, country and world," said Jill Renslow, Executive Vice President for Mall of America. "We are honored to host the 50th Anniversary of Title IX Celebration for the many families enjoying spring break along with tens of thousands of people traveling to Minnesota for the NCAA Women's Final Four. We can assure this celebration will be nothing short of spectacular and are thrilled to join other Minnesota businesses in celebrating this historic legislation."
Showcase event: Delta Dental of Minnesota "FLOSS" competition
The 50th Anniversary of Title IX Celebration at Mall of America showcase event is Delta Dental of Minnesota's game of "FLOSS", which takes place on The Fastenal Court in the Huntington® Bank Rotunda on Sunday, March 27, from 1 p.m. to 2 p.m. This dental spin on the classic hoops shooting game of "HORSE" pairs local women CEOs and executives with a few well-known "ringers" including Title IX Honoree and former Minnesota high school basketball star Lisa Lissimore and Lynx General Manager and Head Coach Cheryl Reeve. The local hoops legends and women executives will engage in a friendly competition – and maybe just a little bit of friendly smack-talk.
Delta Dental of Minnesota CEO, Rod Young, will host the event, joined by special guest emcees Michelle Young, Minnesota's favorite Bachelorette, and Lea B. Olsen, former Gopher Basketball player and Minnesota Lynx and Timberwolves Broadcaster. In honor of the event, Delta Dental of Minnesota is donating $10,000 to the Tucker Center for Research on Girls & Women in Sports at the University of Minnesota.
"As the father of two daughters who participated in NCAA athletics, I know firsthand the significant impact college athletics has made in their personal and professional lives. Title IX was a game changer that increased the numbers of women participating in sports, earning degrees and advancing their professional careers. We are proud and honored to support this event and we look forward to this unique opportunity to interact with Mall of America guests and provide them with fun experiences," said Rod Young.
Corporate partner activities and experiences offered throughout the week include:
3M Court of Dreams, located in the mall's North Atrium, is a one-of-a-kind basketball court that recognizes those who paved the way for equality in athletics and education, and brings to life the dreams of those who benefit from a fair and equal playing field. A variety of 3M technologies, including print and decorative films, combine to create a tapestry of dreams from over 1,300 young scholars and athletes who shared their hopes for the future, their role models, and their athletic and educational goals. The 3M Court of Dreams will be unveiled at 3 p.m. on March 27, with help from celebrity guests and local youth athletes. 3M will also be awarding STEM scholarships to five University of Minnesota student-athletes.
Delta Dental of Minnesota's The Power of SmileTM Locker Room, located in Huntington® Bank Rotunda, will feature daily prize giveaways and a slam dunk photo booth where visitors can pose for a photo of doing a monstrous dunk or taking the game winning shot.
Fastenal Sport Court, in the Huntington® Bank Rotunda, will host daily basketball clinics (including special clinics hosted by Minnesota Lynx players on March 29 and 30) and open play, toddler hours, the Mascot Match Up with some of Minnesota's favorite team mascots, performances by Twin Cities Trapeze, the Lynx Senior Dancers and more. Full schedule can be found here.
Land O'Lakes Championship Tour bus will be displayed in front of the mall's north entrance. Visitors can also engage with Land O'Lakes Championship Tour activations in the Southeast Court, express their feelings about women in sports on an oversized chalk wall, test their hockey goal shooting skills and don't miss the Mall of America Putt Putt challenge and a Star Tribune Photo Experience!
Target will take over the 1st Floor North Garden, where guests can play skee-ball to win prizes, have photos taken with an oversized bobblehead Bullseye Dog, and participate in Target's community art wall.
Xcel Energy Bucket Challenge, a basketball version of the classic Connect Four game, will be located outside at the mall's north entrance. Visitors can also stop by the Xcel Energy Tiny House to learn about ways to save energy and money.
Title IX Artist Leeya Rose Jackson will paint live in the Southeast Court on March 28-30.
Huntington® Bank Rotunda stage entertainment and activities throughout the week will include a robust schedule that celebrates diverse opportunities in education and sports such as live music performances by Rebel Queens, Lady Midnight, School of Rock, and Prairie Fire Lady Choir; a JockJams themed drag show presented by FlipPhone; indigenous hoop dancing performances by the Sampson Brothers; sports knowledge trivia hosted Trivia Mafia; and stretching and fitness activities hosted by Peloton and AruvaAFRICware.
Cub Kindness volunteers will be on hand to ensure a great experience for everyone.

For a complete list of 50th Anniversary of Title IX Celebration at MOA activities, visit titleix-mn.org/celebration
About the Minnesota Local Organizing Committee and Minnesota Sports and Events The Minnesota Local Organizing Committee of the 2022 NCAA Women's Final Four was formed by Minnesota Sports and Events, an independent 501c6 organization designed to bring significant economic, reputational, and social impact to the region through the attraction, promotion, and execution of world-class events. Minnesota Sports and Events was established in 2020 through the efforts of regional leaders in sports, business and hospitality who recognized the need to create a permanent sports commission to come together to formalize efforts with one voice.

Media Contact:
Jason Dorow
jdorow@tunheim.com
952-923-4363