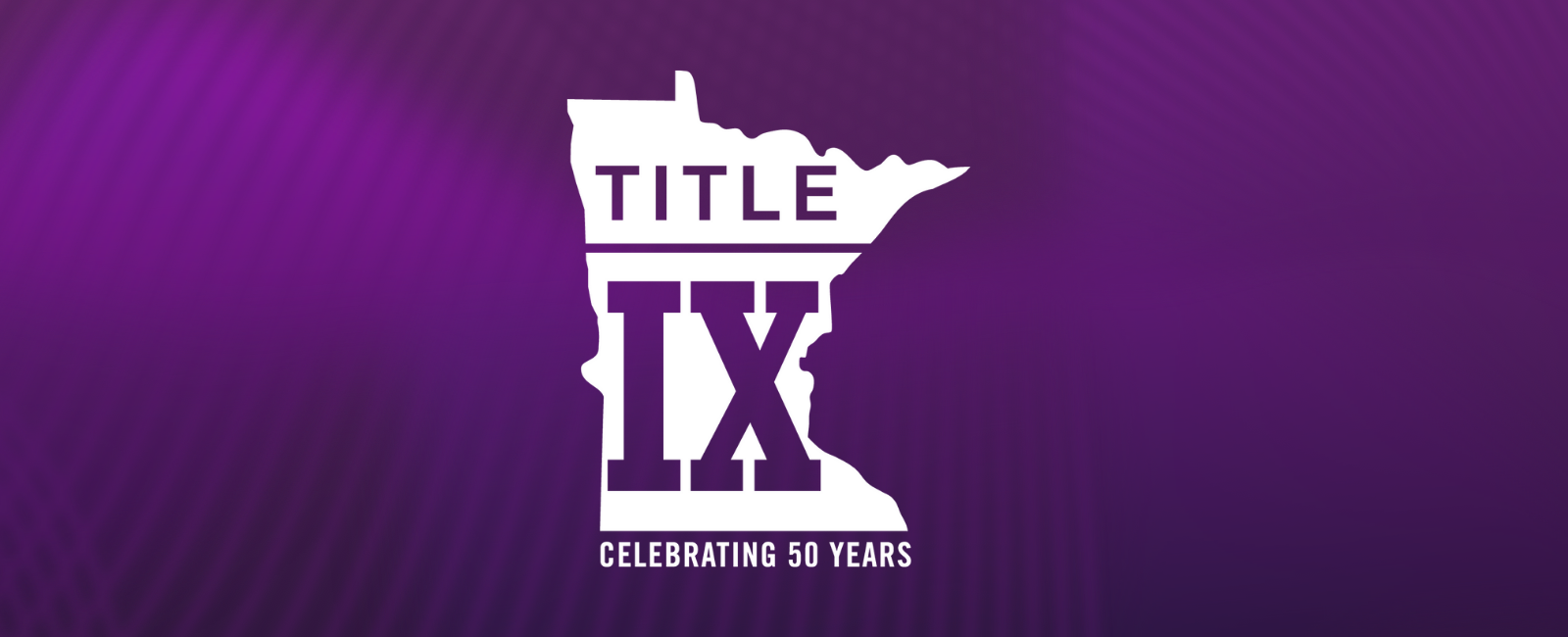 Minnesota's Title IX 50th Anniversary Celebration Partners Announced
Wednesday, February 2, 2022
MINNEAPOLIS -- Minnesota Sports and Events today announced the Minnesota partners that have been supporting a year-long series of local events and programming recognizing and celebrating the 50th Anniversary of Title IX, the transformative civil rights law that removed barriers for women and girls in education and sports.

In Minnesota, Title IX's milestone anniversary year coincides with the 2022 NCAA Women's Final Four, the premier women's college championship, that takes place April 1-3 at Target Center in Minneapolis. Title IX 50th Anniversary partners are involved in multiple engagements and activations, including an exciting statewide Title IX Championship Tour, a robust speaker series and leadership program featuring many of Minnesota's women leaders in not only sports but also business, education and public services. The Title IX 50th Anniversary celebration will culminate in an eight-day basketball takeover during FanFest at Mall of America featuring sports activities, celebrity appearances, music, entertainment and much more.

"We are extremely grateful to our Title IX 50th Anniversary partners for their amazing support, as we celebrate this important milestone," said Wendy Williams Blackshaw, CEO and President, Minnesota Sports and Events. "We have a rich heritage of great women trailblazers and leaders here in Minnesota and it has been a labor of love and an honor to celebrate the achievements of these amazing women. Telling the Title IX stories would not have been possible without the commitment to gender equality of our 25 local partners who have demonstrated their unwavering support over the past year."

Since Title IX's passage in 1972, women's participation in sports has grown by 1057% at the high school level and 614% at the college level. The legislation accelerated change and created a legacy of diverse women leading on and off the court and playing field. In fact, about 90% of women CEOs played sports at some point in their lives and over 50% played at the university level.

"Xcel Energy has long recognized the value of diversity, inclusion and equity in our workplace and in the communities we serve. We were proud to support events that showcase our region with the Super Bowl and NCAA Men's Final Four when those events took place here in Minnesota," said Brett Carter, EVP, Chief Customer & Innovation Officer. "Now we are thrilled to support the Title IX 50th Anniversary celebration, which honors the wealth of amazing women leaders – on and off the court. Especially as Minneapolis hosts the premiere collegiate women's sporting event in April, the 2022 Women's Final Four."

Title IX 50th Anniversary partners include:

Founding Partners: 3M, Accenture, Best Buy, CUB, Delta Dental of Minnesota, Ecolab, EY US, Fastenal, Land O'Lakes, Mall of America, Minnesota Timberwolves and Lynx, Minnesota Twins, Minnesota Vikings, Mortenson, Pohlad Companies, Sleep Number, Target Corporation, Thrivent, UnitedHealth Group, Xcel Energy

Presenting Partners: Carlson Family Foundation, McGrann Shea Carnival, Straughn & Lamb

Media Partners: Media Bridge Advertising, Star Tribune

Additional information about Title IX 50th Anniversary partners, events and recognition, including the Title IX Honorees, 11 women athletes selected for their notable achievements in their sport, can be found at titleix.mnsportsandevents.org.

-----------------------------------------
About the Minnesota Local Organizing Committee and Minnesota Sports and Events

The Minnesota Local Organizing Committee of the 2022 NCAA Women's Final Four was formed by Minnesota Sports and Events, an independent 501c6 organization designed to bring significant economic, reputational, and social impact to the region through the attraction, promotion, and execution of world-class events. Minnesota Sports and Events was established in 2020 through the efforts of regional leaders in sports, business and hospitality who recognized the need to create a permanent sports commission to come together to formalize efforts with one voice.
MEDIA CONTACTS
Mary Haugen
612-201-0697
mhaugen@frontiernet.net